Which GLEWEL Ebike is Right for Me? How to Choose the Perfect Ebike for Your Lifestyle
The world of e-bikes has exploded in recent years, offering riders an abundance of options for commuting, leisure, and off-road adventures. However, with so many choices and variations available, it can be overwhelming to choose the right e-bike for your needs. Here, we will provide an overview of four types of e-bikes offered by GLEWEL and the people they are best suited for.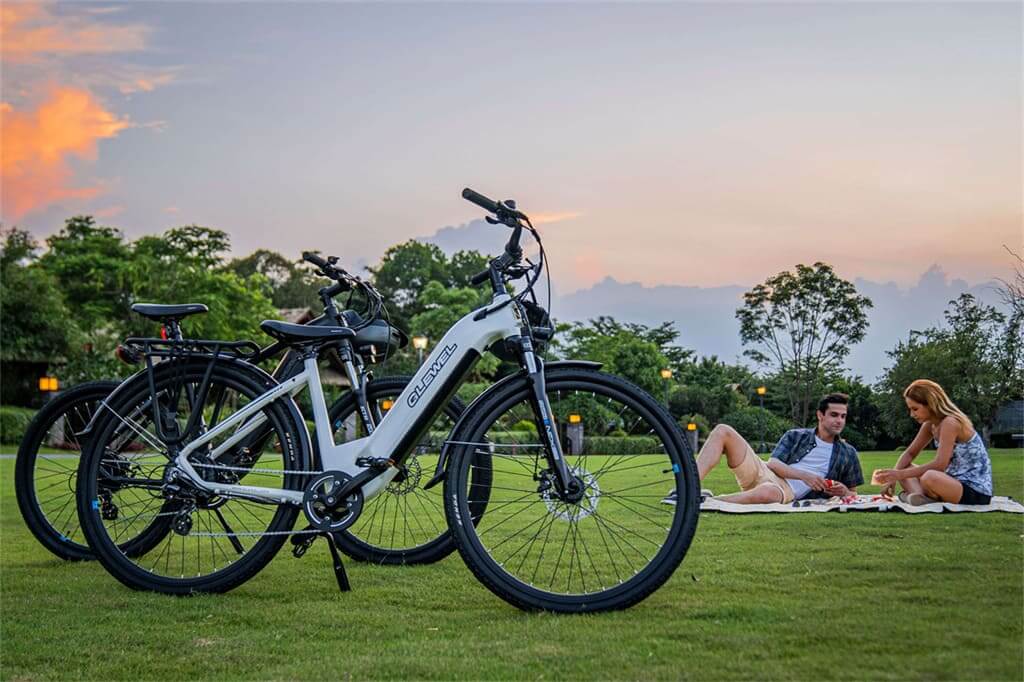 Commuter Ebike for Ladies - GLEWER STEP-THRU
Step-through commuter ebikes have become increasingly popular among women due to their ease of use and comfortable, upright riding position. The step-through design allows riders to easily mount and dismount the bike, making it ideal for urban commuting, running errands, or leisurely rides around town. These bikes usually come with fenders, a rear rack, and lights, which make them practical for everyday use. In addition, the motor and battery are designed to provide a smooth and quiet ride, making them perfect for those who want a hassle-free and low-maintenance bike.
If you're looking for a comfortable and stylish e-bike, the GLEWER STEP-THRU is a perfect fit. This step-through model is designed with women in mind and features a low-step frame for easy mounting and dismounting. In addition, the 250W motor provides smooth and efficient power, while the 36V 15.6Ah battery ensures you can travel up to 85km on a single charge. Plus, the bike's durable aluminum alloy frame can support up to 175kg. So whether commuting to work or running errands around town, the GLEWER STEP-THRU is a reliable and comfortable choice. Plus, its sleek design is sure to turn heads.
Commuter Ebike for Men - GLEWER STEP-OVER
Commuter ebikes aren't just for women. Men can also benefit from these bikes' ease of use and comfort. They offer the same benefits as their female counterparts but come in more masculine designs and colors. This type of bike is perfect for men who want a quality bike for everyday use but are looking for a less demanding bike than traditional bikes.
Designed with a step-over frame for maximum comfort and utility, the GLEWER STEP-OVER is the perfect choice for any man on the go. The GLEWER STEP-OVER has a top speed of 25km/h with 562Wh(36V x 15.6Ah) and features a pedal-assist (Pedelec), allowing you to customize your riding experience. Plus, the LED display on the handlebars lets you keep track of your speed, distance traveled, and battery level. Overall, the GLEWER STEP-OVER is a reliable, versatile, and affordable e-bike that is perfect for commuting and running errands. Its sturdy build quality, ample power and range, and convenient features make it an excellent choice for any urban rider.
Folding Electric Bikes for Ladies - LOYAL
A foldable electric fat tire bike offers a comfortable, smooth ride that can be easily folded, stored, and transported. Its fat tires provide excellent traction and stability on any terrain, while the electric motor allows you to effortlessly cruise through your daily commute or adventure. Attractive and dynamic, the folding bike is perfect for a variety of activities - from casual city rides to off-road adventures.
If portability is a crucial consideration for you, the LOYAL folding e-bike is a great choice. Featuring a 20-inch step-through frame and fat tires, this e-bike is perfect for off-road adventures and outdoor excursions. The 250W motor and 36V 13Ah battery provide ample power and range, allowing you to travel up to 70km on a single charge. In addition, this ebike's folding design makes it easy to store and transport. If you're into outdoor exploration or using an e-bike for daily commuting, the LOYAL is a dependable and functional option.
Folding Electric Bikes for Men - ELITE
Foldable fat tire electric bikes are a perfect choice for those who live in small apartments, have limited storage space, or want a bike they can easily transport. These bikes come with fat tires, which provide excellent grip and stability, making them suitable for a variety of terrains. Additionally, they feature a foldable design, making them easy to store in small spaces or take on public transportation. They are ideal for city dwellers who want a reliable and practical bike to navigate narrow streets, heavy traffic, and challenging terrain.
The ELITE is the perfect solution if you're a male looking for a folding e-bike. Featuring a 20-inch step-over frame and fat tires, this e-bike is built for utility and portability. Whether you're looking to stay fit, save money on gas, or simply have fun exploring new places, this foldable electric fat tire bike is the perfect choice for you. Its compact size and foldable frame make it easy to store under a desk, in a small apartment, or in the trunk of your car.
Conclusion
Choosing the right e-bike can be daunting, but by considering your needs, riding style, and preferences, you can find the perfect e-bike for you. Whether you are looking for a practical commuter bike, an adventurous off-road bike, or a versatile and portable bike, there is an e-bike here for you. GLEWEL offers four types of e-bikes that cater to different needs and preferences, from step-through and step-over designs to folding e-bikes. Whether you're looking for a comfortable and stylish commuting option or a practical and portable outdoor adventure vehicle, GLEWEL has you covered. With this overview of four popular e-bike types, we hope to help you make an informed decision and find the bike that perfectly suits your needs.